Kuala Lumpur
Attractions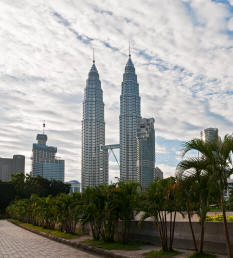 Being so centrally located Bukit Bintang has many nearby attractions, however some are also in other parts of the city.
Istana Budaya - KLs main venue for all types of theatre including musical theatre, operetta, classical concert and opera from local and international performances. opened in 1999 it was designed by a local architect to merge traditional Malay, Islamic and modern influences.
Bukit Tabur- Outside the city proper, at Taman Melawat, but visible from Middle Ring Road 2 this "Bukit" or "Hill" is a magnificent hiking location within striking distance of the city.
Jalan Petaling - Also known as KL Chinatown the area around Petaling Street is famous for it's ethnic Chinese shops and foods, as well as the street market which is well signposted and very obvious once you reach it. Road side stalls shielded from the sun by colorful giant umbrellas give a fan carnival atmosphere, but the shopping is serious and includes many discount items including DVDs and games.
Pusat Jualan Kraf Craft Center - Established by the government to encourage the development and maintenance of the skills of Malaysian craftsman these center is open for guided tours and large variety of different types of local crafts are available for sale in the Karyaneka shop, at very reasonable prices for the high quality offered.