Foods
at Bukit Bintang
All people love their food, Malaysians are no exception. With the multi-cultural spirit of Malaysia encompassing food in particular there are a range of different food styles available in all quarters of KL. Each of the many Shopping Malls in Bukit Bintang have both restaurants and a food court, while independent gourmet restaurants as well as ethnic specific varieties are to be found in particular areas.
Food Courts
If you haven't been to Malaysia before then you may be amazed at the offerings in the Food Courts which go far beyond those in other countries. In a Malaysia Food Court various independent food vendors, who in olden days would have been "hawkers" or street stall operators, have a place in big combined court. In this room are shared tables and chairs, or sometimes benches and stools, at which you can sit and order food from any of the different food providers.
This allows you to mix and match your menu in any way you want. Perhaps have a Malaysian Curry with Indian Rice, some Chinese vegetables, a Thai drink and finish off with a European dessert! Yes your choices are unlimited with you visit a food court.
Many Shopping Malls has their own Food court, sometimes in the basement, sometimes on an upper floor, but always a large area. Being indoor and air conditioned is a big advantage for these food courts at the end of a long hot day of shopping.
The particular styles and offerings vary from one mall to another but some of the most popular options include:
Hotung Lot 10 Mall - Together with Pavilion Mall this is the most important and largest variety of different hawker foods you can find inside one Food Court. Located on Jalan Sultan Ismail just outside the Bukit Bintang Monorail station.
Pavilion Mall Food Court - Located on Starhill of Jalan Bukit Bintang this is part of the massive Pavilion complex with over 500 shops. On level 1 the "Gourmet Emporium" is a must-see food court bringing together famed brands like Food Republic with small independent rice and noodle vendors.
Bukit Bintang Plaza Food Court - Right next to the Monorail station this complex has many shops as well as a dedicated food court area.
Lemon Food Court in Low Yat Plaza - One of the smaller food court offerings but still worth visiting while in the Plaza to see the electronics shops.
Nyonya cuisine
Also called Peranakan this term refers to a unique fusion of different cultures which has occurred in Malaysia when it comes to preparing and eating food. The main ingredients have been the Chinese styles of cooking, but using spices and condiments from the Malay tradition. When combined with the other influences that are so broad in Malaysia this has built up a distinctive style all of its own.
The world famous laksa dish, which combines noodles with a spicy soup and many interesting small additions, is perhaps the best and most travelled of the Nyonya style of food, but other specialties exist as well include otak-otak, a combination of fish, coconut milk, chilli paste, galangal, and herbs wrapped in a banana leaf.
To try Nyonya food in a small family restaurant try Limbalas at 15 Jalan Mesui, just off Changkat Bukit Bintang, just behind the One Residency tower.
Jalan Alor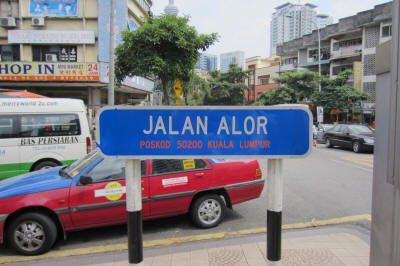 Open air restaurants line Jalan Alore which runs parallel to Jalan Bukit Bintang offering all types of Malaysian and Chinese foods including roasted meats and fresh seafood. Large photographs above the restaurants depict the dishes that they service. Thai food is also common. While the street is still open to cars in practice pedestrians outnumber cars and it becomes a good place for an evening stroll as you select which cuisine will suit you.
Most people prefer to eat at the street side open air cafes to enjoy the atmosphere and watch the people walk by. However there are also inside cafes and restaurants if you prefer air conditioned dining.
The Jalan Alor eateries cater to locals as well as tourists and are well equipped with English menus and English speaking waiters to serve tourists.
Most restaurants don't open until the dinner service starting at about 6pm, but continue on until past midnight. Not until the early hours of the morning will all the stalls be shut.
Changkat Bukit Bintang
Once just a sidestreet and now a major dining destination on it's own right.
International choices
As with any world city KL also is well supplied with major international chains so you can find Planet Hollywood and Starbuck Coffee etc as well as Asia pacific specific ones like Pacific Coffee.